Junior Camp is
comprised of four groups:
Freshmen ("Frosh") (completed 1st grade)
Sophomore A's (completed 2nd grade)
Sophomore B's (completed 3rd grade)
Juniors (completed 4th grade)
Led by Director Andy Berlin, each group has their own group head, guidance person, and athletic director. All of these men and women are educators and have been at Brant Lake Camp for years.
All groups have a broad range of activities and instruction.  
Competition is carefully thought out, age-appropriate, and thoroughly supervised.  
Junior Campers enjoy weekly trips out of camp to nearby attractions.
Our youngest campers enjoy a well-rounded, structured program of activities that provides a strong foundation for their future years at BLC.
A TYPICAL DAY
In Junior Camp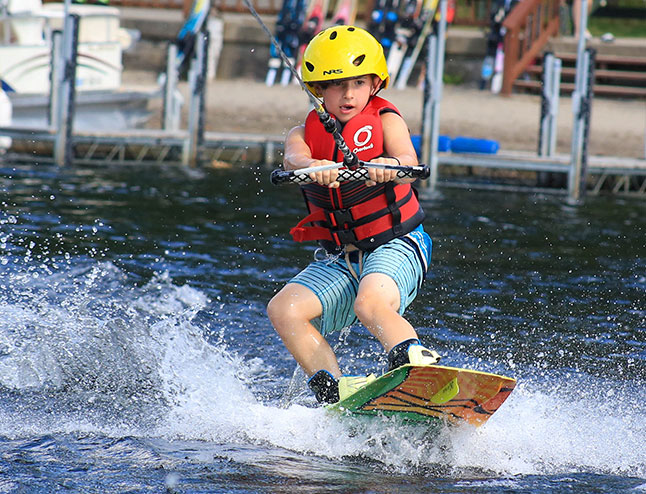 | | |
| --- | --- |
| 7:30am | Wake-up/Wash-up/Clean-up |
| 8:00am | Breakfast |
| 9:00-10:00am | Clinics – Assigned sports instruction in baseball, basketball, soccer, tennis, lacrosse, hockey, & ski |
| 10:15-11:15am | Hobbies – Choice of activities including: arts and crafts, archery, fitness, flag football, lacrosse, roller hockey, waterfront activities, climbing wall, ping pong, frisbee golf, music/drama & more |
| 11:30-12:15am | General Waterfront – A choice of activities including swimming, sailing, skiing/wakeboarding, fishing, boating, playing in the sand, ping pong, hanging out lakeside |
| 12:30pm-2:15pm | Lunch & Rest Period – Hanging out, letter writing, board/card games |
| 2:15-3:15pm | Instructional Waterfront – swimming/boating (waterski, sail, kayak, canoe) lessons |
| 3:30pm | Snack |
| 4:15-5:15pm | Sports Competition – games for all with teams, coaches, and referees |
| 5:30pm | Dinner |
| 6:15-7:15pm | Free Play & Special Tennis – Supervised free time with a variety of options, including Special Tennis |
| 7:30-8:15pm | Evening Activity – Shows, Movie Night, Scavenger Hunts, Campfires, Goofy Camp Games and more |
| 8:30pm | Showers, Milk & Cookies, Bunk Time |
| 9:00pm | Lights Out |