The Senior Camp is
made up of three groups:
Senior A's (completed 7th grade)
Senior B's (completed 8th grade)
Senior C's (completed 9th grade)
Zach Cohen and 'Doc' Brunt are the Directors in charge of our oldest campers.
As a Senior, campers have considerably more opportunity to shape their own program and even specialize in a single sport.  For those boys who are interested, our oldest campers get a chance to play in frequent intercamp games and tournaments in numerous sports.  Seniors also enjoy regular trip days in addition to major trips throughout the summer to places like Boston, Toronto, and Montreal. The boys have regular opportunities to socialize with the girls from our sister camp, Point O'Pines, as well as our own Brant Lake girls programs.
There is no shortage of fun and spirit with our Seniors.
Senior Camp Highlights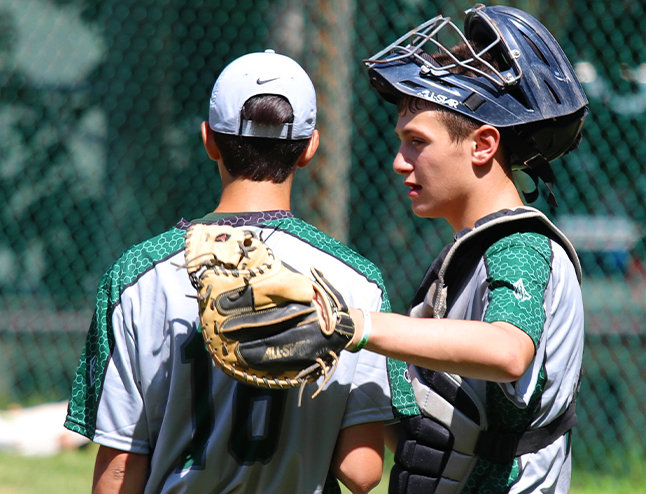 Later wake-up and bedtimes
Extra opportunities for games or individualized instruction in a variety of sports including baseball, basketball, tennis, soccer, waterskiing, flag football, hockey, lacrosse, volleyball, weight training, and golf
Individualized instructional sessions offered regularly 
Longer Selectivity/game periods
Intercamp games continue but tournaments with other camps are more prevalent. A tournament team is selected based on talent and commitment, and they practice often prior to an upcoming tournament.
Varsity practices for tournament bound teams
Specialty days offered where boys can opt to participate in a chosen sport for 5 hours during that day
Green and Gray includes Senior games with the whole camp watching
The opportunity to play multiple sports most evenings under the lights
Numerous optional coed activities (3-4 times per week)
Two "luxury," multi-day trips are offered during special trip weeks. Destinations include: Springfield's Basketball Hall of Fame, Burlington, Vermont, Toronto, Boston, Montreal and New Hampshire. 
Use of the Senior Clubhouse for socials, movies, large group gatherings, and hanging out with friends
Separate Senior dining room with television to watch SportsCenter and live games
Evening snacks after activities
While there are many options in Senior Camp, boys must make choices and keep busy. A dynamic, individualized program like our Seniors have necessitates individual responsibility plus guidance from charismatic, respected Key Staff leadership.